Meet An Artist
This week we want to introduce you to long-time Treehouse friend and volunteer art educator Beth Maughan. Beth worked as an Elementary Art Specialist in Ogden District for many years. When Treehouse first opened in 1992 Beth was the artist in residence. We didn't have an Art Garden then, so families sat on our first version of the Utah Map and created art with Beth. Beth served on the Treehouse Board of Trustees, too. Beth is a wonderful artist, and has helped paint decorative walls at Treehouse over the years, including plants and animals in our Castle Party Room.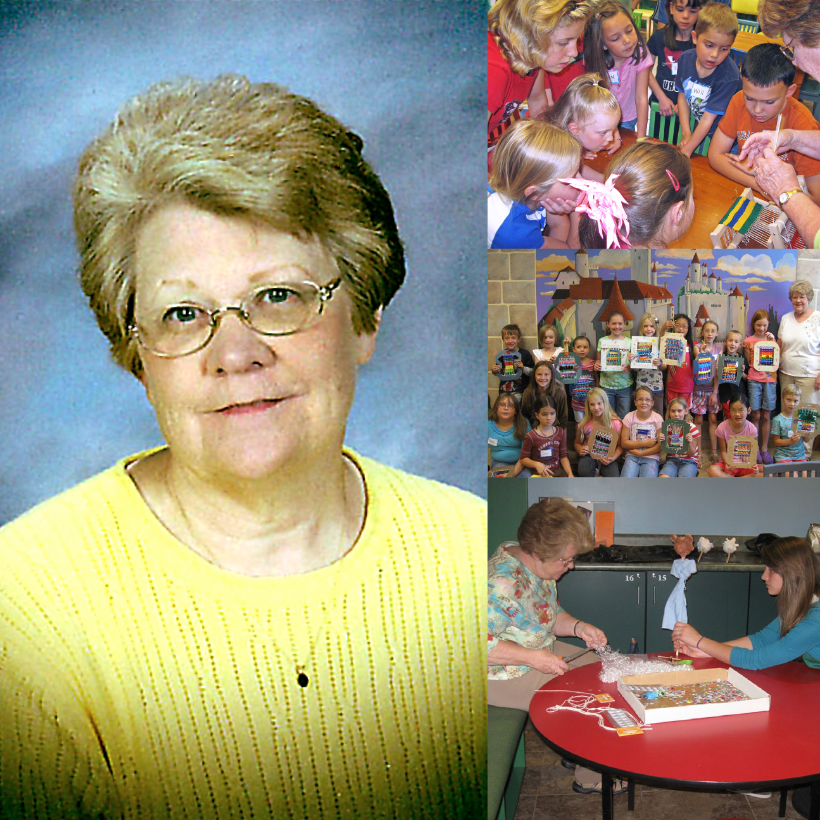 Download Beth Maughan's Coloring Page
Try a Craft with Haley & Get Ready For Kindergarten on the Treehouse YouTube Channel
We have a new, easy Art Garden activity video with Haylee on our YouTube site. She'll show you how to make a patriotic wind sock to hang up with a piece of yarn or string for the month of July. Click here to watch it on YouTube. Be sure you watch the Miss Bindergarten video with Wes that we released last week, too. Your preschoolers and your about-to-be-Kindergarten children will love it and you can check it out here. You can also check out Treehouse's Learn Together Youtube Channel offerings for your family to sing or make along with at home.
If you missed our features on Treehouse friends like puppeteer Randel McGee, illustrator/author Giles Laroche,  Treehouse Programs Coordinator Wes Whitby, author April Jones Prince,  author/illustrator Ashley Wolff, puppeteer/storyteller Marilyn Price, illustrator Joan Paley, illustrator Holly Berry,  illustrator Renée Andriani, custome designer and professor Catherine Zublin, author Keir Graff, author/illustrator Michael Goodwin, and science professor Dr. Adam Johnston, you can click here to go to the blog section of the Treehouse website.

Take a Treehouse Challenge
Don't forget our writing Challenge with young adult author Keir Graff. Children, ages 8 to 16, who love to write can enter a short story by June 30. Email Treehouse the short story you have written, inspired by one of Keir's books or another favorite book, and we'll forward it on to Keir for some comments and writing encouragement. Finalists will also receive their very own copy of Keir's The Phantom Tower. Send your stories to treehouse@treehousemuseum.org by Tuesday, June 30.
Until next Thursday, take care and keep learning together!