Our Mission:
Treehouse Children's Museum invites children, ages 2 to 12, and their grown ups to Step into a Story® through interactive and engaging exhibits and daily programs and special events that make learning child's play. We know that what you experience as a child shapes the adult you become. Treehouse is a place that shows children that they matter and that they can create and do amazing things. Treehouse supports and strengthens families and serves as an enriching resource for our schools, preschools, and Head Start programs.
Treehouse Is Celebrating Its 30th Anniversary in 2022!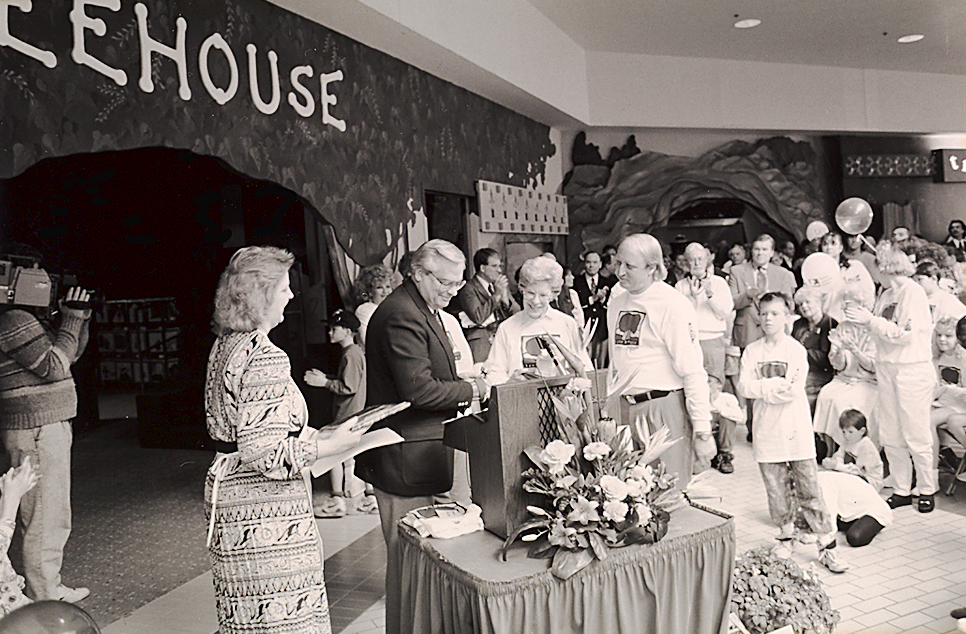 Opening Day in the Ogden City Mall on February 29, 1992.
The private, nonprofit Treehouse Children's Museum opened its doors in 1992 and has been providing unique educational exhibits and enriching programs for more than 175,000 visitors each year. Originally located in Ogden City Mall, Treehouse now has a signature building, the Elizabeth Stewart Treehouse Museum, on 22nd Street, which opened in 2006. With nearly 30,000 square feet of exhibits, a giant tree at its center, plus a theater, a global "village," an American downtown, a Science Circus gallery, and much more, Treehouse was built with love for the most important people on the planet – our children. More than 3.5 million children and adults have visited Treehouse during the last 3 decades.
Thanks to all the generous donors who have provided contributions, grants, and sponsorships that have kept the Museum going and growing for 3 decades! Thanks, too, to our thousands of members who support Treehouse through their membership purchase.
Treehouse Board Trustees
Treehouse Museum is fortunate to have a strong, caring 25-member Board of Trustees to ensure that the resources and the policies are in place to help us best serve families and schools.
Sherilyn Olsen, Board Chair
Kenyon Dove, Board Vice Chair
Marlisa Lund, Board Treasurer
Dr. Eric Amsel
Darla Blodgett
Paul Byron
Sylvia Cobabe
Kathy Douglas
Candace Flowers
Marshal Garrett
Kent Greenfield
Cami Hall
Bob Herman
Judy Jackson
Mitzi Kawaguchi
Meg Naisbitt
Rebecca Okey
Georgiann Parkin
Phyllis Savage
Glory Spurlock
Brian Stevens
Cheri Walker
Sharon Williams
Denise Wright
Catherine Zublin
The Treehouse Staff Team
Treehouse has a talented and dedicated employees including 7 full-time and 13 part-time employees, who together create and maintain this unique and beautiful facility.
Full-time Staff
Lynne Goodwin, Founding Executive Director
Wesley Whitby, Programs Manager
David Hobbs, Exhibits and Facility Manager
Rob Goodwin, Development Officer and Graphics Manager
Jennifer Ware, Visitor Services Manager
Gina Adamson, Volunteer Mentor and Programs Assistant
David Alexander, Programs and Visitor Services Assistant
If you would like to work at Treehouse Museum, please download and fill out our application form completely and then email it to treehouse@treehousemuseum.org or bring it to our Welcome Desk.
In honor of our 30th Anniversary and 16 years in our permanent home – the Elizabeth Stewart Treehouse Museum building – here's a look back its construction.