Community Partners and Donors
Thank you to our many supporters!
Businesses, foundations, and individuals have donated to Treehouse Children's Museum to help provide engaging new exhibits and programming to families and schools and to provide access through donated memberships and admissions to families who might not otherwise be able to afford to attend. Partners have also sponsored exhibits and programs, and/or participated generously in the annual Treehouse Gala fundraiser in September, which generates important funding for the award-winning educational initiatives at the Museum. Our membership purchasers are donors, too, and we appreciate the support of thousands of families who annually purchase memberships for admissions and in doing so give to other families, too.
Even in a pandemic the following generous donors kept Treehouse going:
Sustaining Partners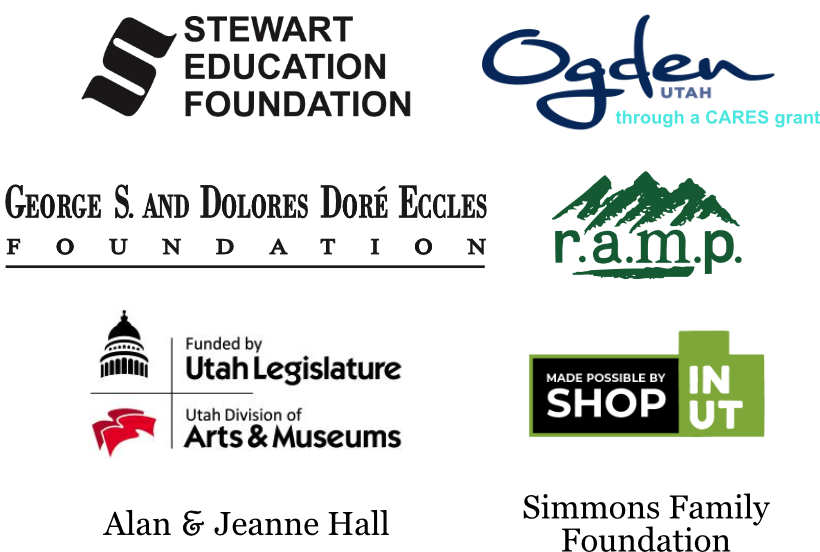 Program and Exhibit Partners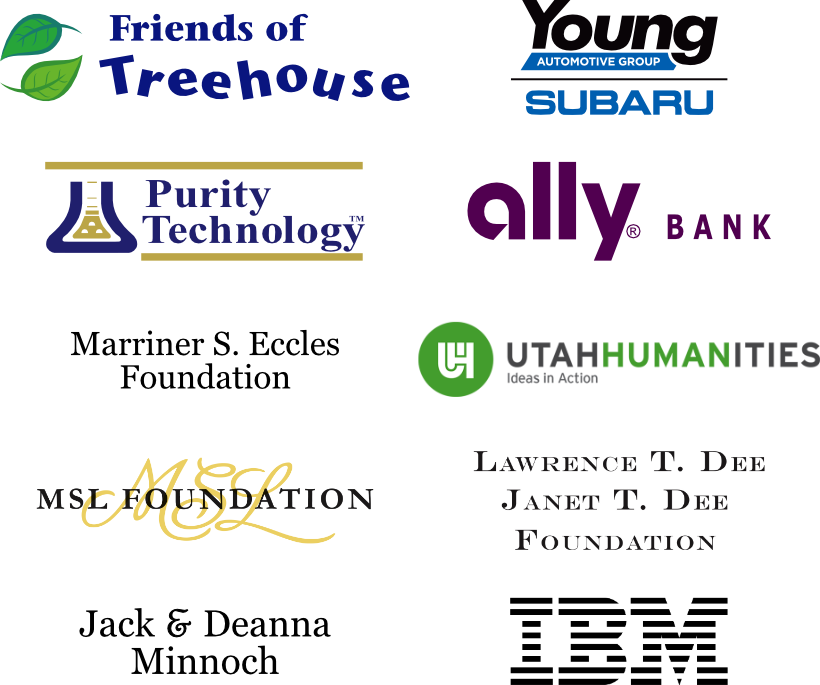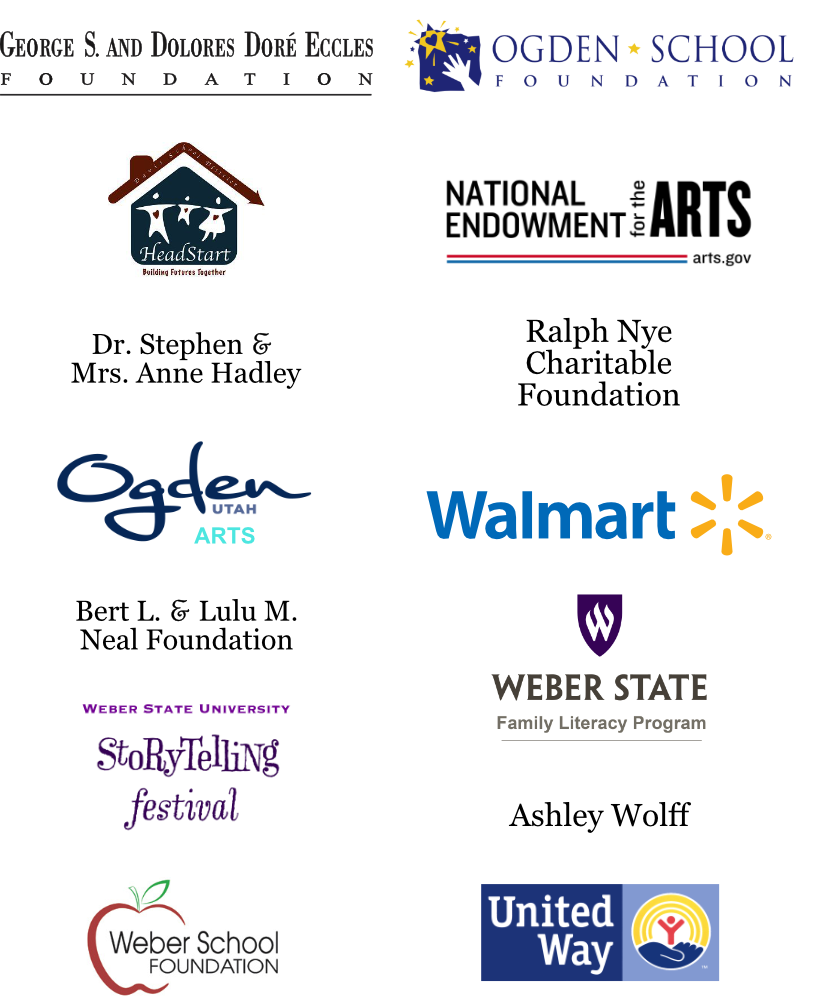 Storybook Gala Party Sponsors
Foundations and Corporations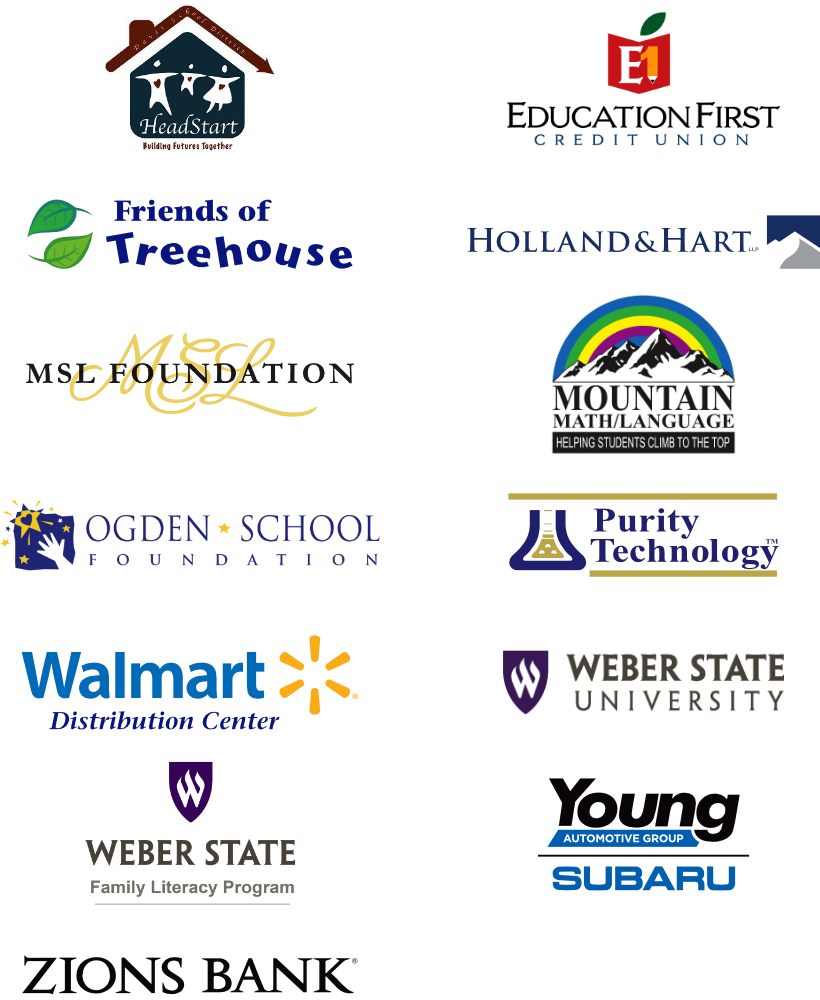 Storybook Gala Party Sponsors
Individuals
George & Sylvia Cobabe
Kathy Douglas
Michael & Lynne Goodwin
Eric & Cami Hall
Mitizi Kawaguchi
Jeff & Marlisa Lund
Mark & Meg Naisbitt
Brad & Nelle Peterson
Phyllis Savage & Friends
Edward & Cheri Walker
Sharon Williams
Gary & Denise Wright
In-kind Donors
Businesses
Ace Hardware, North Ogden
Adams Toll Road
Alleged on 25th Street
Altrusa International, Ogden Chapter
Aspen Mills
Bow Tie Creamery
Burton Law Firm
Chick-fil-A, Riverdale
Friends of Treehouse
Hatchet Jaxe
Holli's Cakes
Hunt for Glory
Lakeshore Learning
Menchies on 24th
Minky Couture
Ogden Golf and Country Club
Peddler's Catering
RMI Auto Detailing
Rocky Mt. Chocolate Factory
Social Axe
Taggarts
Technovation Design
Texas Roadhouse, Riverdale
Think Bon Appetit
Wall 2 Wall Flooring
Walmart, South Ogden
Weber State University Alumni Center
Weber State Family Literacy Program
Wine Buddies
Ziegfeld Theater Arts
Individual In-Kind Donors
Eric Amsel
Monique Bernard
Sylvia Cobabe
Kathy Douglas
Kenyon and Sharon Dove
Matthew L. Farr
Aiko Flowers and Candace Flowers
Marshal and Julie Garrett
Michael and Lynne Goodwin
Cami and Eric Hall
Jeanne Hall
Annette Hardy
Judy Jackson
Jayne Johnson
Mitzi Kawaguchi
Mark and Meg Naisbitt
Mike and Sherilyn Olsen
Georgiann and Brent Parkin
Amy Pauling
Barbara Phillips
Lacie Sanders
Phyllis Savage
Paul and Rachel Schvaneveldt
Cheri and Edward Walker
Sharon Williams
Ashley Wolff
Gary and Denise Wright
Catherine Zublin