Meet An Artist
We're excited to re-introduce you to one of our favorite children's book illustrators who has visited Treehouse twice, is featured in our Illustrators exhibit, and even helped us cut the ribbon when we opened our building. Joan Paley created the art for many great children's books including our favorites Little White Duck, Meet Our Flag Old Glory, Unbeatable Beaks, and Star of the Sea. Joan creates her collage illustrations using hand painted papers and then layering her detailed and beautiful scenes together. Joan helped to put together the Big Book for the Pages for Peace Project, a giant collection of more than 3,500 letters from peace activists, teachers, politicians, veterans, and students from all over the world sharing their messages of peace. The project was started by middle school students at Groton-Dunstable Middle School. Joan did the layout for the 12 foot tall and 10 foot wide, 1,000 page book that is being displayed at libraries and museums around the country.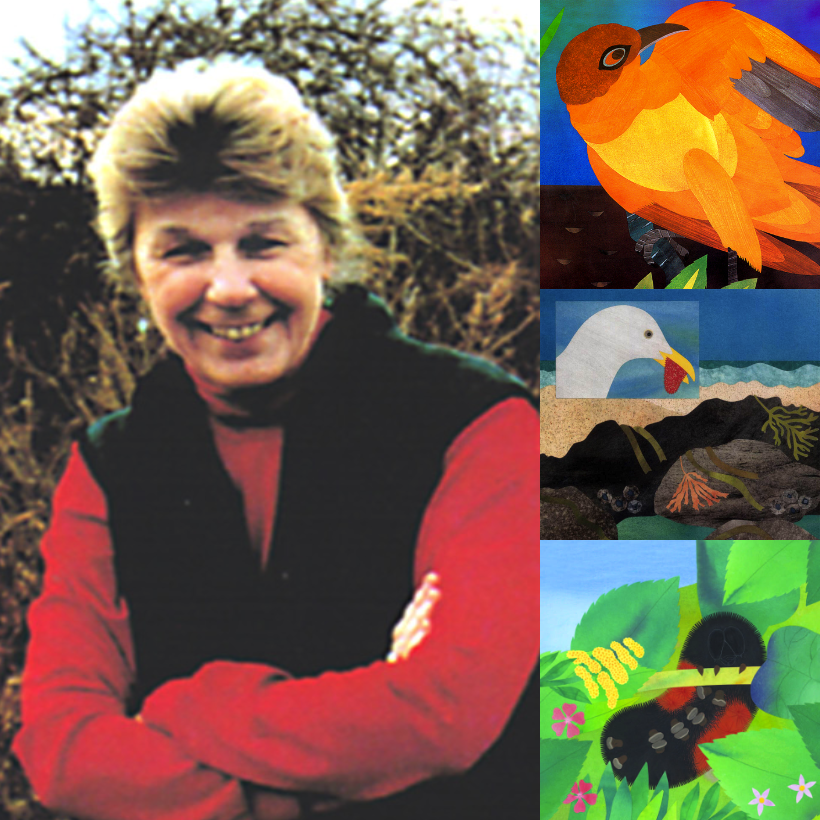 If you missed our features on Treehouse friends like puppeteer Randel McGee, illustrator/author Giles Laroche,  Treehouse Programs Coordinator Wes Whitby, author April Jones Prince,  author/illustrator Ashley Wolff, and puppeteer/storyteller Marilyn Price you can click here to go to the blog section of the Treehouse website.

Winner From The Make A Puppet Challenge
Some deadlines have passed and we have consulted with our guest judges. It's time to present the winner of our Children's Challenge Contests 1 & 2!
Congratulations to the Challenge 1 Make a Dragon or Fairy Tale Puppet winners, who will each receive a copy of one of puppeteer Randel McGee's Craft books in the mail.

Colby Love
Alan Farb
Brynn Mamula
Matias Obregon
Mariana Obregon
Congratulations to the Challenge 2 Lost Cities winners, who will each receive a copy of Lost Cities by Giles Laroche in the mail.

Nena Nystrom
Camille Jensen
Daniel Jensen
Thanks to all the children who entered and every parent who supported these efforts!
Take April Prince's Treehouse Writing Challenge
The third Treehouse Children's Challenge is still open for another week! We invite children and teens, ages of 7 and 14, to write a Fractured Fairy Tale! Pick a favorite fairy tale and retell it your way. April points out on her website that to "fracture" something means to break it and then changing it so it's similar to the original fairy tale, but different. She's even made a worksheet to get you going!
Download April's Fractured Fairy Tale Organizer
When you've written your own version of a fairy tale, then send it to Treehouse. We'll send the finalists on to April who will read them and help choose the winners who will receive copies of some of April's books and other great Treehouse prizes. The deadline for this challenge is Friday, May 16. Just email us your story, plus your name, age, and phone number to treehouse@treehousemuseum.org. Please include the title of your fractured fairy tale.
Let's stay safe and well and keep reading, writing, drawing, and learning as we Step into a Story® together.