Meet An Artist/Author
This week we're very excited to showcase the wonderful and amazingly talented Ashley Wolff. Not only does she have more than 60 outstanding children's books to her credit as an illustrator and an author, Ashley has the distinction of being "adjunct staff" at Treehouse Museum. She has taught many workshops for families here, visited lots of Northern Utah schools, and joined our exhibit team as our resident muralist. Her beautiful animals and plants fill our "Walk in the Woods" exhibit (which was inspired by her "Baby Bear" book series), and her artwork is featured inside and outside of our Big Red Barn, on the Utah Map walls, and in the "One World Village" Gallery where her paintings of children represent the festival dress of several countries around the globe. Ashley was just at Treehouse in February of this year and painted 3 new children for our new "Mapping the World" floor map exhibit in the Village, a project that will be completed by the end of June. Here's a photo of the children she painted. Can you guess what countries they represent? And click here to see Ashley painting one of the children in a short clip.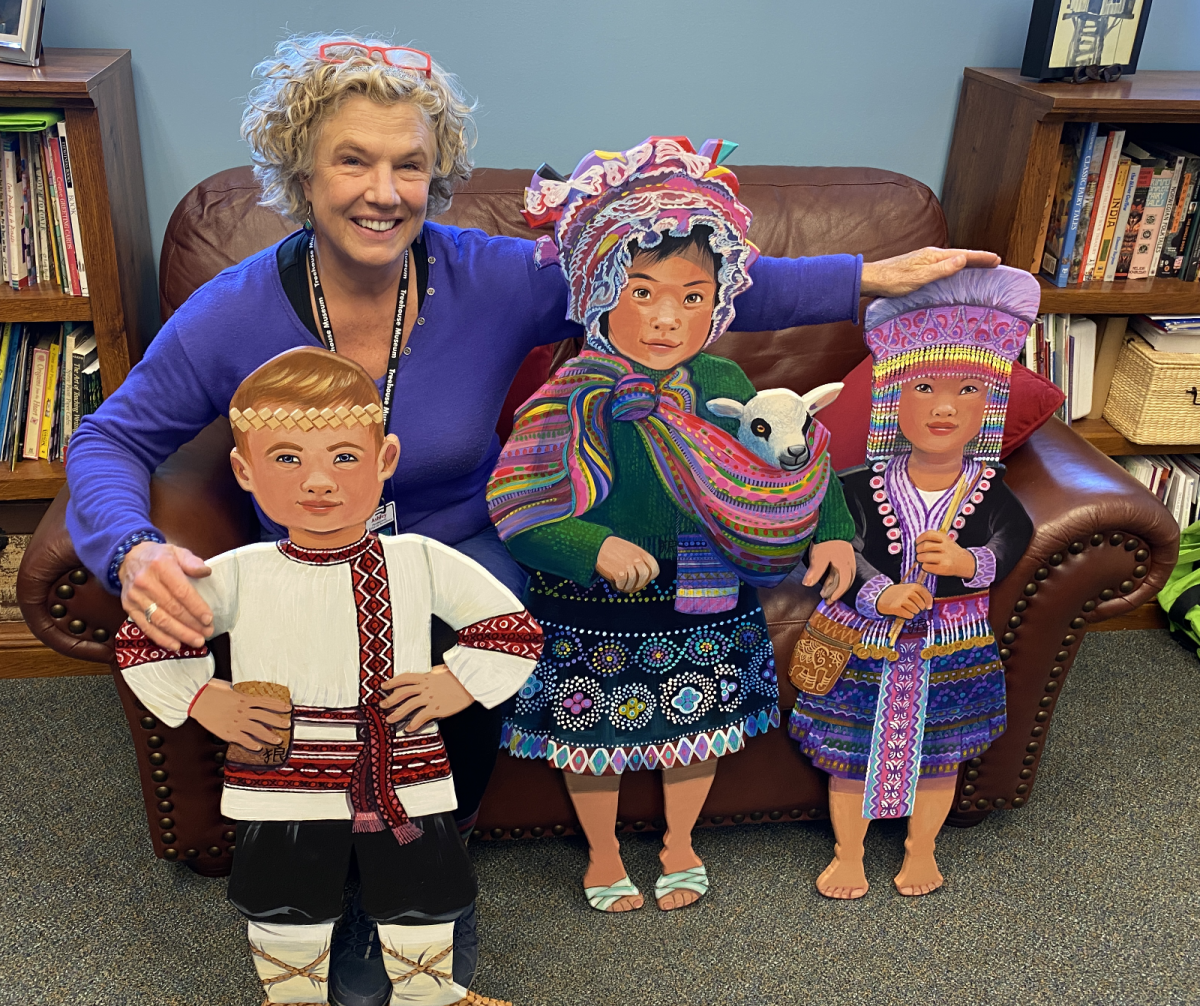 Ashley has lots of ideas for writing and illustrating on her website and one of our favorites is "Make a Mola!" Click here to learn how to make a cut paper "mola," based on the traditional art form of the Kuna Indians of Panama. There's even a Utah honeybee example to follow.
You can also click below to download a pdf coloring page by Ashley that features the wonderful Miss Bindergarten! (We'll be doing another Learn Together feature on the Miss Bindergarten series later.)
In honor of Ashley's artwork on our Barn and our Woodshop exhibit at Treehouse, Wes Whitby, our Treehouse Programs Manager and his helpers created a new Treehouse video for our youtube channel. Click here to watch!

Take a Treehouse Challenge
Don't forget to be working on our three Treehouse Tales Children's Challenges. These contests are fun ways for you to interact with some of guest artists, who also help judge the winners. We've already seen some amazing dragons and lost cities and we've read some awesome fractured fairy tales.
The first Treehouse Children's Challenge is for children, ages 4 to 12, to enter a dragon or fairy tale puppet to be judged by author, illustrator, storyteller, and puppeteer Randel McGee. Create your own dragon or fairy tale character puppet out of materials you find around the house and can, with parent permission, recycle and use to make your own storytelling puppet. When completed, children should send a photo of it to Treehouse with their name, age, and mailing address by May 1, 2020. We'll send the top ten entries to Randel and Groark, who will select the top winner. That winner will receive a set of Randel's craft books, some great Treehouse items, and a $25 prize check.
The second Treehouse Children's Challenge is for children, ages 4 to 14, to create a "Lost City" collage. Families can work together on this Challenge, too. You could create an under the ocean city, a city covered by jungle, or anything you can imagine. When your city collage is complete, take a picture, and email it to us along with the participating child's name, age, and mailing address. Treehouse will share the entries with Giles and we'll select three to receive special prizes. The deadline for entering your collage photos is Friday, May 8, 2020.
The third Treehouse Children's Challenge is for children and teens, ages of 7 and 14, to write a Fractured Fairy Tale! Pick a favorite fairy tale and retell it your way. April points out on her website that to "fracture" something means to break it and then changing it so it's similar to the original fairy tale, but different. She's even made a worksheet to get you going!
Download April's Fractured Fairy Tale Organizer
When you've written your own version of a fairy tale, then send it to Treehouse. We'll send the finalists on to April who will read them and help choose the winners who will receive copies of some of April's books and other great Treehouse prizes. The deadline for this challenge is Friday, May 16. Just email us your story, plus your name, age, and phone number to treehouse@treehousemuseum.org. Please include the title of your fractured fairy tale.
Let's stay safe and well and keep reading, writing, drawing, and learning as we Step into a Story® together.