Meet an Artist/Author
This week we are excited to reintroduce you to a long-time Treehouse friend, children's book author and illustrator Giles Laroche, who lives and works in Salem, Massachusetts. Giles visited Treehouse for a residency and a series of school workshops that were absolutely fascinating. In those workshops Giles talked about how he was fascinated by maps and books that transported him to other places and even other times and how lucky he is to be able to create those kinds of books for children as an illustrator.
Giles creates his award-winning books with paper collages in a process that is truly amazing. He starts with a sketch and then cuts, paints, and glues, to create illustrations that have as many as 7 or 8 layers. He adds spacers (small pieces of cardboard) to give his collages even more depth. Giles calls his technique "paper relief" but we call it wonderful! Click here to visit his website.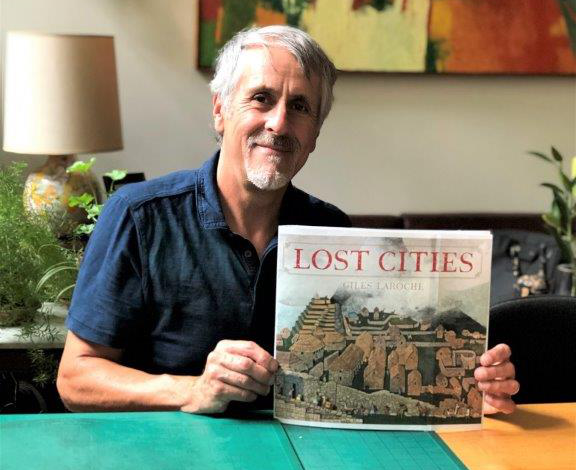 Giles has a brand-new book that is being released nationally on April 7 and he has given Treehouse a sneak peak; check that out by clicking right here! The book is titled "Lost Cities."
Giles has also mailed some books to Treehouse to give as prizes for our second Treehouse Children's Challenge. We invite children, ages 4 to 14, to get our your paper, scissors, glue, and a ruler to create your own "Lost City" collage. Families can work together on this Challenge, too. You could create an under the ocean city, a city covered by jungle, or anything you can imagine. You can use any kind of paper – from construction paper to magazine pages. When your city collage is complete, take a picture, and email it to us at treehouse@treehousemuseum.org along with the participating child's name, age, and mailing address. Treehouse will share the entries with Giles and we'll select three to receive special prizes. Deadline for entering your collage photos is Friday, May 8, 2020.
Download Giles Laroche's Treehouse Coloring Page
Because it's Treehouse Thursday Learn Together at Home day we are also excited to share a new art video featuring Treehouse employee Haylee. We've posted it to Youtube, and click here to check it out.
Don't forget that you can watch the wonderful Wes tell the story of a "Tiny Turtle" over on Youtube, and you can watch Master Music Teacher Phyllis talk about music and its connection to math skills for young children. Here are the links to these videos on Treehouse's Youtube channel.

Take Randel McGee's Treehouse Challenge
And, finally, don't forget our first Treehouse Thursday Children's Challenge! In partnership with Randel McGee, we invited children ages 4 to 12, to create their own dragon or fairy tale character puppet out of materials have on hand. Puppets can be made of paper, fabric, a sock, or other materials.  When completed, parents should send a photo of the puppet to treehouse@treehousemuseum.org with the child's name, age, and mailing address. The deadline for this Children's Challenge is May 1, 2020. We'll send the top ten entries to Randel and Groark, who will select the top winner. That winner will receive a set of Randel's craft books, some great Treehouse items, and a $25 prize check.